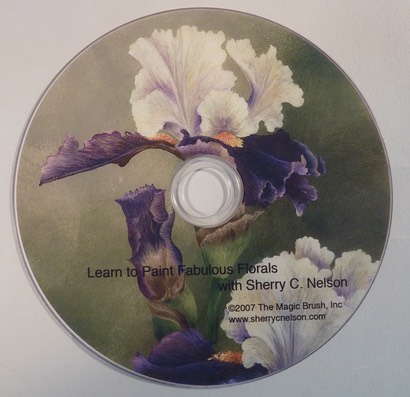 DVD/ How to Paint Fabulous Florals      1 hour
Instructional Video - Sherry demonstrates her techniques  for painting realistic flowers  ... see every brush stroke. Watch Sherry brush-mix values with her unique method using "loading zones" on the palette while she paints.
4 Floral demos show how to create shape, contour, and growth direction for realistic Glads, Amaryllis, Iris, Tulip.
1 project packet, Purple Iris included with DVD.
Other packets of demo flowers also available:  Gladiolus - $5.00, Amaryllis & Malachite Butterfly - $5.00, Purple Iris - $5.00, Tulips & Other Treasures - $5.00.
Also helpful ... Painting techniques can be applied to all Floral elements in Sherry's designs from her books and packets.
See Sherry's Books and Packets on this website and in Wishbook.pdf